I stumbled across this adults only boutique hotel while I was doing some research for our Costa Rica holiday. I immediately fell in love with it. The pictures looked gorgeous – just the kind of style I like. So when we arrived in Costa Rica it was pretty clear that we would be staying there at some point during our three week. We just didn't know exactly when. As we were travelling in green season (July and August) we didn't have any stress at all to pre-book our hotels and just decided what to do on a daily basis. Pure luxury.
Oxygen Jungle Villas is a small boutique hotel in a Balinese-style situated right in the rain forest above Uvita. You will definitely need a 4WD to get up that hill. I thoroughly enjoyed the ride up the hill and always wanted to drive myself. Upon check-in we were welcomed with yummy cocktails. They do ask you if you want it with alcohol or not – ehm with please. So we sipped our cocktail right at the pool and waited for our room to be ready for us.
The rooms are spectacular. We had an ocean villa – well as the names says – with ocean view. The room has top to bottom glass walls (except the bathroom wall) and a own private terrace with a cosy sofa. So bring your own wine with you (there'a a fridge in the room) and just chill on your terrace in the evening. It is such a relaxing atmosphere.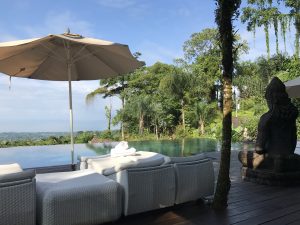 Mornings were always special – remember we're still in the rainforest. You don't need an alarm clock, the howler monkeys are sure to wake you up in the mornings. They sound so close, although they can be up to 5 km away. Still, the jungle feels so close being in a glass villa. You can also see the birds flying around in your "garden". One morning the trees were full of toucans. In 2 seconds we were both out of bed and on the terrace, taking dozens of fotos of toucans. There were so many of them. First it was only the small ones with the colourful beaks but then also the big ones flew in. It was amazing. We were watching 13-15 toucans just casually flying by and sitting in the trees right next to our villa.
You didn't see Toucans all day, I guess we were really lucky. But even while relaxing at the pool there were loads of different birds flying by or even taking a dip in the pool. So if you get bored of reading just soak up the nature around you or take a swim in the pool. It's a small but stylish infinity pool with a beautiful ocean and jungle view. As there are only 12 bungalows it never was crowded and felt like a small private hideaway. The staff knows all the guests and is very sweet and attentive at all times. We also ate some of the best food here. It's pricey but it's worth it, sometimes you just want to splurge.
Try the breakfast burrito and the tuna for dinner. You won't regret it.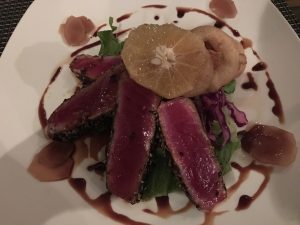 We came with great expectations and Oxygen Jungle Villas exceeded them, making this a truly memorable stay for us.