Costa Rica was actually already on our list for 2010. But then I stumbled over cheap flights for Thailand and we spontaneously changed our plans two weeks before departure. But somehow Costa Rica never really let go of us.
Booking the flights was easy, getting to Costa Rica turned out to be the problem. After a cancelled flight, an emergency landing in Düsseldorf, a bus drive to Amsterdam, a night in a shabby airport/motorway hotel in Amsterdam, we arrived in San José after 48 hours. This is our 3 week itinerary for green season.
Day 1: San José
Pura Vida. We are finally in Costa Rica.
We picked up our rental car, a Hyundai Tuscon (so worth it) and drove to Alajuela where we stayed in a really nice boutique hotel only 10 minutes from the airport. I can totally recommend Alameda Cariari Boutique Hotel. This is a big villa with 10 individual rooms, a small pool, friendly owners and a convenient location. Honestly, I wish we had booked it for our last night as well. Unfortunately, I wanted to try something new …
Day 2-4: Tortuguero
We never bothered to visit San José and also didn't regret that decision. Before we hit the road for Tortuguero we went to the city mall to buy a SIM card from Kölbi to have internet access while we were travelling, so we weren't dependant on WIFI. We always do this and I wouldn't want to miss it. For the navigation we downloaded Google offline maps, which was a perfect guide. We arrived everywhere – even in Tortuguero. When you think you might be on the wrong road due to all the pot holes – just keep on going till you arrive at the La Pavona boat dock. You can park your car there and buy your boat tickets. We bought a round trip ticket and could leave immediately although the schedule said otherwise. To be honest I still don't get it, but it was a public boat and the price was correct. So pura vida.
The boat trip is really nice. You travel through the jungle on the Suerte River and if you are really lucky it will rain so hard, that you can put on your rain coat fort the first time. When we arrived in Tortuguero it wasn't raining, it was pouring buckets of water. So, we jumped off the boat and waited for the rain to reach a normal level, so we could get our backpacks out of the boat. While we waited we chatted with a German family. They told us where they were staying and which tours they had booked – which turned out to be a lucky coincidence for us later …
ACCOMMODATION
When we finally checked into our room the disappointment was huge. We've slept in a lot of budget places – but this was definitely too budget. I won't go into details – in the end we decided to look for a new place. We found a room in the same place as the German family 🙂 We also booked the same boat tour in the morning and were really happy with our choice. If you are looking for a nice place at the river side with a delicious breakfast, stay in Casa Marbella. They also have a lovely deck on the river.
ACTIVITIES
Wildlife Boat Tour: Tortuguero is a great place to explore nature. We saw our first sloth! But at the beginning we weren't sure if we could go on the tour at all. Because guess what: it rained again. We waited for the rain to become less and had some coffee and biscuits. Unfortunately, the rain continued. We all decided to put on flip flops and rain ponchos (we got them from Casa Marbella) and headed into the canals of Tortuguero. We left really early in the morning, which was great to see wild life. Have your camera at hand – you will need it. After the tour we had breakfast on the lovely river deck: pancakes, fruit and coffee 🙂
Self-guided walking tour: In the afternoon we decided to explore the jungle. The trails are just outside of the village. We put on our hiking shoes and of course took our rain coats with us. When the girl behind the reception desk saw us, she just shook her head and told us we needed wellingtons (you can borrow them from your guest house). We decided to change shoes, which was a great idea because the trail was under water at some points. You can walk the trail till the end. We decided to turn around after 7 km and walk back along the beach where the turtles lay their eggs in summer.
Turtle Tour: This was most one the most amazing experiences I have ever had. I felt like being in a national geographic documentary. You walk to the beach with your guide at night and wait till a turtle is spotted at the beach. Then in small groups you can watch the turtle laying its eggs at the beach. I was amazed at how big the turtle was. We could even watch the turtle covering her nest and then slowly disappearing back into the black sea.
If you are in Tortuguero in July and August, watching the turtles nesting is an absolute must.
Day 4-8: La Fortuna
Next stop: La Fortuna. This is an area we loved. The volcano with its hot springs is impressive. We actually only planned to stay 2 nights. Our plans never seem to work out though.
ACCOMMODATION
The first two nights we stayed in Heliconias Nature Lodge in a tree house. Although you need to drive a little bit to get into town and the national parks, we totally enjoyed our time there. They also have a little trail with a lot of wild life around. If you are lucky you can spot a sloth, a toucan, parrots and a poison jean frog. The local family was so welcoming and always had time for a chat. We also had our best breakfast here. For dinner I would go to town – I guess you get more for your money in the local sodas.
After two days we decided we couldn't leave La Fortuna without visiting the hot springs. Yet, we didn't want to join the bus loads of tourists. So, we decided to book a hotel with hot springs. We stayed in Hotel El Silencio del Campo, a gorgeous hotel with bungalows spread out in a beautiful garden and its own thermal pools and spa on-site. It was just so nice to relax in the thermal pools and sip a fruit cocktail that we didn't want to leave and stayed another night.
FOOD & DRINKS
Our favourite place for lunch was Soda Viquez. It's right in the middle of town and offers great local food at fair prices. We loved the friendly service, the fresh fruit juices and especially the casados.
My favourite dish was the casado with beef steak and I loved the guanábana juice.
ACTIVITIES
Hiking: We hiked Arenal 48, which is way better than Arenal National Park. The hiking trails are much nicer: you work through a forested area, up lava rocks, through historic lava fields and have a stunning view of the volcano at Lava Flow Summit. We just had to wait for the clouds to pass. You also hardly meet any people. Less people means more animals to see. We saw our first toucan here. Beautiful. We were so happy and took tons of pictures. I also had a strange episode with a squirrel. It actually threw a stick down at me, which hit me under the eye. My fiancée couldn't stop laughing, I just couldn't believe it. Obviously, squirrels don't seem to like me.
Day 8 -10: Monteverde
Finally, we decided to move on. Off to Monteverde. I kind of dreaded the trip to Monteverde. You have to google "road La Fortuna to Monteverde". Everything you read about this road seems horrific and with rain everything is even worse. I'm not sure if we actually took the same road or we feel different about road conditions than others (and we had rain on our trip). But honestly the trip was a breeze and we arrived in Monteverde after 3.5 hours. I drove 🙂
In Monteverde it rained the whole afternoon and there was not much to do. All the activities take place in the morning and the cloud forest closes early afternoon. We had a coffee in town and did some food shopping. But Monteverde isn't a town I fell in love with.
ACCOMMODATION
We stayed at Monteverde Rustic Lodge. It's nothing fancy but was just right for our stay in Monteverde. The owners are very helpful choosing the right activities and tour operators during your stay. It takes about 10 minutes to walk into town.
FOOD & DRINKS
Beso Espresso & Roasters: The best coffee in town. We always went to this super cute café in the afternoon. Here we had the best espresso in the whole of Costa Rica.
Orchid Café: This is a great choice when you don't want to have rice and beans. We had fresh juices and a delicious waffle. I got a glimpse of the food on the other tables and everything looked so good
Sabor Tico: The name says it all – come here for local dishes. The food is so delicious, that we had dinner here on both our evenings. Try the ceviche, gallos (soft tortillas with delicious fillings) and the steak. It is also only 2 minutes from the Rustic Lodge.
ACTIVITIES
Cloud Forest: The cloud forests are cloudy and mossy. Surprise. For bird lovers it's heaven. For us it was okay. I enjoyed the other national parks more. Most people we saw went with a guide, but we just wanted to do our own thing that day and did the walking tour by ourselves.
Ziplining: This was the reason for our visit to Monteverde. We went with 100% Aventura. They have the longest zip line in Latin America (2.4 km) and the Tarzan Jump. For anybody who is worried about safety, you can relax. They use equipment from the big European brands (brands we also use to go rock climbing at home) and it made a good impression on us. We were a big group but everything was perfectly organised, so you don't really have to wait. I even did the Tarzan Jump although I hadn't planned to. I just wanted to look and the next moment I jumped. My fiancée caught it on video and my family had loads of fun watching it. Apparently, I made weird screaming noises. My mum was so impressed by our pictures and videos that she also went ziplining in Costa Rica, even though she is afraid of heights. She loved it!!!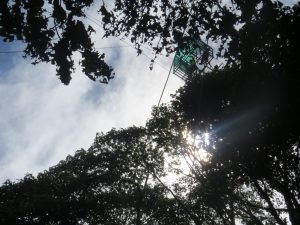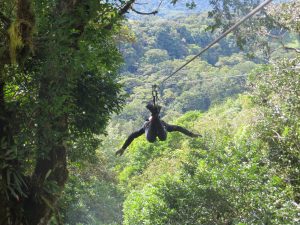 Day 10 -12: Uvita
The only reason we stayed in Uvita was actually the hotel. I found this hotel on the internet while I was doing a little research about Costa Rica. I instantly fell in love and from that day on wanted to stay in Oxygen Jungle Villas.
ACCOMMODATION
Oxygen Jungle Villas is a gorgeous boutique hotel. We stayed 3 nights and enjoyed every single moment. You can read the full hotel review here.
If you are travelling off season always check Tripadvisor or the hotel website for special deals. We saved 25% off the regular price and had breakfast included.
FOOD & DRINKS
We always had dinner in the hotel. Yes, it was pricey but it was sooo good. Especially the tuna. And the service was always great. Two reasons to stay and spend money. Buy a bottle of wine in the supermarket for after dinner and enjoy it in the evening on your private terrace.
Sibu: We dropped in here to have a quick coffee. We never say no when a good cup of coffee is close. We didn't try the cake, but it looked delicious.
ACTIVITIES
Whale watching: Coincidently we visited during whale season. The national park Marina Ballena (ballena means whale in Spanish) is right in Uvita and they offer whale watching tours. The hotel organised a tour for us with Bahia Ballena Kayaks. The tour was great and our guide Arie was even better. We were so lucky and saw four adult humpback whales and two babies. An impressive experience – as it was the first time we say whales in the ocean.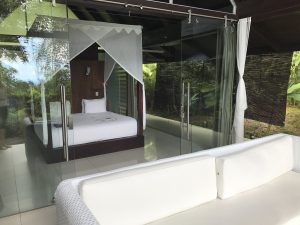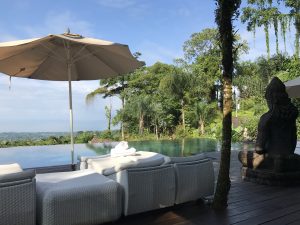 Day 12-15: Drake Bay
Drake Bay here we come. Once you arrive in Sierpe, the end of the world is only a boat trip away. But first you have to park your car at the boat dock and leave your keys. Because the parking lot is so small they have to repark the cars on a daily basis. For Germans a worst-case scenario! First the idea freaked us out and then it was … pura vida: here are the keys. It went well by the way – we got our car back in one piece 😉
Depending on the season, think about putting on your rain coat before getting on the boat. It is not easy putting on a rain coat when 1) the boat is going on full speed, 2) it is raining (obviously), 3) the waves are higher than usual. Just a small tip from somebody who was optimistic that it wouldn't rain.
If it rains before you board the boat, make sure you have dry clothes (including underwear) at the top of your backpack. They might come in handy when you are completely soaked with rain and sea water. This boat trip made the first place of worst boat trips while traveling 😉
ACCOMMODATION
We stayed at La Terraza Verde Lodge with Jenny. Jenny is a wonderful host. She helped us with all our trips, picked us up and brought us to boat and had a load full of useful tips. She has four rooms, which are all really nice (we saw them all). The best part though is the roof terrace with the best view in the whole of Drake Bay. The open kitchen is part of the veranda. Here you have a fridge and a coffee maker. Sofas, hammocks and lounge chairs are really inviting after an active day. In the evening grab a beer or a glass of wine, light up the candles and relax at what seems like the end of the world.
ACTIVITIES
Dive Cano Island: If we have the possibility we always go diving on holiday, just to get an impression of the different dive sites worldwide and to stay in "diving practice". We went diving with Drake Divers. This was a day trip to Cano Island, which included two dives at different sites (45 minutes per dive) and a picnic lunch at San Josecito beach (take your camera to get a few pics of the macaws). The diving isn't amazing, but it was worth it. We saw whales on the 1-hour boat journey to Cano Island which was quite impressive. You just have to be aware that you won't see any spectacular corals – it's more about the white tip reef sharks, turtles and sting rays. We saw loads of them. I found it quite impressive to dive really close to white tip reef sharks. If you don't dive, you can also go snorkelling.
Corcovado National Park (San Pedrillo Station): At first, we thought about doing the National Park with one night in the park. But in the end, we chose the day trip option (due to time and comfort zone issues ;-)). You just have to be aware that you go into the park with loads of other tourists and the best animal sightings are at dusk and dawn. However, we still had fun and enjoyed the day. I think we were quite lucky – we still saw loads of monkeys, birds, iguanas, insects and a large black and yellow snake (!). Unfortunately, we didn't see a tapir, although we tried really hard. We did the tour with Rancho Corcovado. Lunch, water and snacks were included.
Take flips-flops and a small towel with you. The boat leaves and arrives at the beach – you have to walk through knee high water. You'll need the towel when you arrive at the National Park and want to put on your hiking shoes.
The Night Tour with Tracie The Bug Lady: This tour was pretty amazing and a must if you visit Drake Bay. Again, we were lucky. I had not planned anything for Drake Bay – I started my research on the terrace of our guest house with a beer. So, guess what: the night tour was of course fully booked (for a few weeks). But lucky us: Somebody had to cancel one hour before the tour and we could spontaneously take their place. Whoop whoop. Tracie is a nerd when it comes to bugs. I have never seen anyone speak with so much enthusiasm and sparkling eyes about spiders, bugs, scorpions, and everything else with 6 legs. Gianfranco, Tracie's husband, is the expert for everything with 4 legs and less. We saw a skunk, opossums, bats and lots of frogs (even the famous red-eyed tree frog). This tour is awesome – Tracie and Gianfranco invite you into their world and you leave with loads of new knowledge and stories.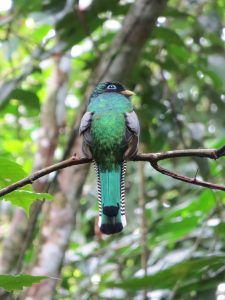 Day 15-18: Manuel Antonio
To go or not to go. That was the big question. Ask 100 people: 50% will tell you not to go because it's so touristy. 50% will tell you to go because they love Manuel Antonio. My own impression: The national park and also the town are extremely touristy.
ACCOMMODATION
The thing I loved about Manuel Antonio was our hotel. We stayed at Gaia Hotel & Reserve (adults only) and we didn't see many reasons why we should leave it. This was the perfect relaxing end of our holiday. We loved the pool area on top of the hill. Nothing beats a good cocktail on a pool float ;-). Again, we took advantage of a green season special (stay 3 nights in the suite and pay 2 nights). You can read my full review of Gaia here.
ACTIVITIES
Visit Manuel Antonio National Park: We went to the park in the early morning, which was the best decision. Most tourists enter later in the morning and then it gets quite crowded. It's a nice park but in my opinion nothing spectacular if you have been to Corcovado or Tortuguero. I would recommend it for families due to its easy access, good facilities and its (small) size. You also have a 100% chance of seeing monkeys and raccoons around the picnic area and you will probably also see sloths and iguanas. If you like the idea of swimming during your visit, then this is your park. There are beautiful white sandy beaches – just take care of your backpack (the monkeys are quite cheeky).
Day 18-19: Alajuela
If you travel from Manuel Antonio to San José stop at the bridge over Rio Tarcoles. You really can't miss it – there are loads of people looking over the edge to the river below. There is a good reason for this strange behaviour: it is said that Rio Tarcoles has the highest concentration of crocodiles in the world. You will see over two dozen of American Crocodiles floating in the water or laying on the muddy river bank. They are huge and there are lots of them – go and have look for yourself, it's quite impressive.
ACCOMMODATION
We stayed at Hotel Buena Vista. Only 7 km outside of San José it is beautifully set in the mountains and still pretty close to the airport. That sounded rather appealing to us and was the reason why we booked it. In the end I was pretty disappointed and wished that we had rather booked Alameda Cariari Boutique Hotel again. Hotel Buena Vista's best days are certainly over. The rooms and the dining room are rather dark and gloomy. Also, the breakfast was nothing special. Actually, it was the most unspectacular breakfast of our whole trip.
FOOD & DRINKS
The dining room in our hotel wasn't appealing so we decided to eat out. As we had to buy a T-Shirt from the Hard Rock Cafe for friends at home and my fiancée fancied burgers we had dinner at the Hard Rock Café. So, we ended our holiday in a very un-costa-rican-style – but it was still delicious, and we enjoyed it 😉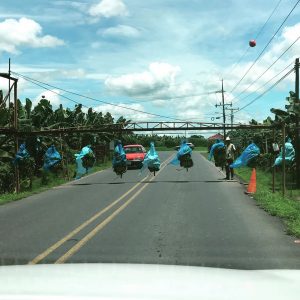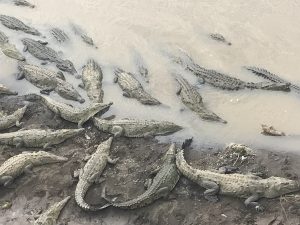 Pura vida!