If you are looking for a place to stay in Manuel Antonio in Costa Rica, look no further. Gaia Boutique Hotel & Reserve is a little adults only boutique hotel situated on the hill with amazing views over the rainforest and its own private nature reserve. You will have to get used to scarlet macaws flying by at breakfast and sharing the poolside with sloths and iguanas. If that doesn't put you off, then its really worth looking into this place.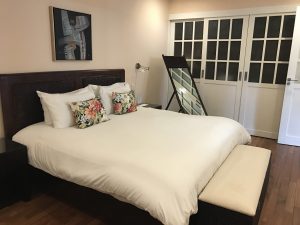 We travelled in Costa Rica during green season and took advantage of the suite summer special. Who wants to stay in a standard room, when you can have a suite, right? The rooms are beautifully designed with a wonderful (and very comfy) king size bed and cosmetic products from raw botanicals. The smell of these products will make you look forward to that shower. The rooms are one thing, but what makes Gaia really special is its service.
At Gaia you don't only get picked up with a golf cart at the entrance (no cars allowed in the resort) but you have your own personal concierge who is available via What's App. I loved this feature. You don't have to bother running to or even calling the reception. You just pick up your smartphone and send your concierge a message. Can you make a reservation in the restaurant please? Could the shuttle pick us up from the National Park? At what time do you have a free slot for the massage? All while just lazily lounging at the pool. That's what I call service 2.0. Our concierge Johannes always answered immediately and even asked how our day was or if we enjoyed dinner.
Oh yes, we enjoyed our dinner. The restaurant – La Luna – is one of the best in Manuel Antonio. We had the tuna and the ribs and some cocktails. It's pricey, but everything in Manuel Antonio is. We also tried other restaurants, but liked La Luna the best. The food is definitely worth the price and the service is just great. Everyone is super attentive but with a very casual attitude.
If you have time, take the free tour in the hotel's private nature reserve to get to see scarlet macaws really close and enjoy a small hike.
We stayed at Gaia at the end of our Costa Rica holiday, which was a perfect place to unwind before going back to San José.